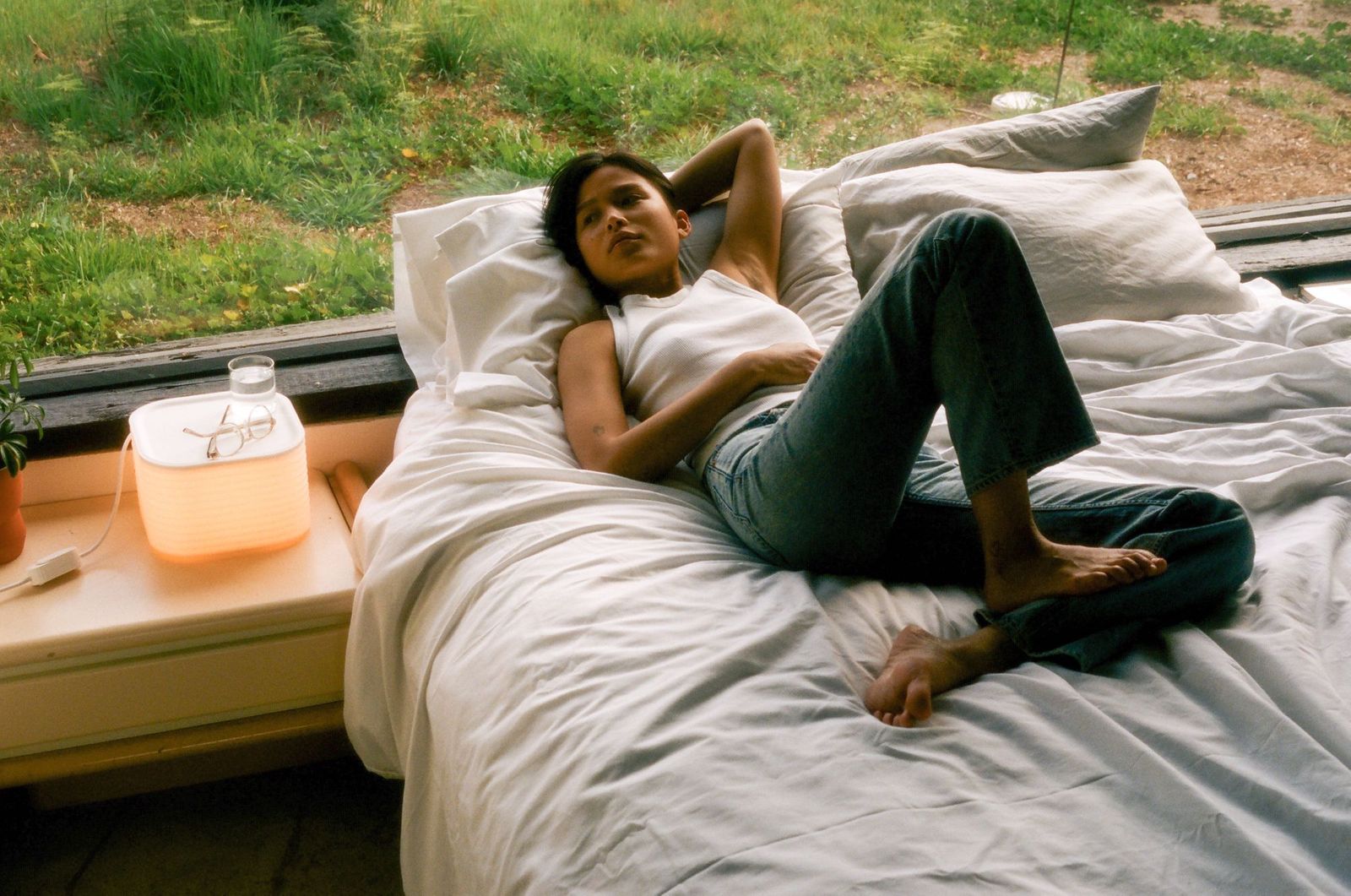 Whether you're looking to "spark joy" or simply working with less square footage, minimalism may have peaked your interest. It's everything we want right? Low clutter, high style, effortlessly chic. But, it can be hard to attain. Fortunately, we have a few tips to help you create the pared-back home you've been coveting and how lighting can play the starring role.
Purge first, purchase second
Taking a cue from Marie Kondo, we must begin the minimalist process by getting rid of anything that isn't useful or does not bring you joy. You can endlessly organize, using all those Pinterest worthy storage solutions but if you have too much stuff, it will feel impossible to get that minimal look.
Start by going room by room, getting rid of decor pieces you never liked, books you'll never read, and clothes you never wear. With a clearer space (and mostly likely a clearer mind) you'll be able to see what pieces you actually need to purchase for your new and improved interior. Perhaps, a new light fixture is in the cards.
Smarter storage
Storage is your best friend when it comes to minimal living and keeping clutter at bay. But not just any storage. To make your minimalist vision a reality, choose storage that can store goods discreetly and creatively. Think: under the bed organizers, furniture with hidden compartments and multipurpose decor. As a general rule of minimalism, the more multifunctional an item, the better it is for the aesthetic.
You can also choose lighting to serve multiple purposes. Try TRAY Table Light as a solution for cluttered nightstands. It features a small tray nested atop a cube shaped diffuser, creating a central location to organize your essentials while providing a relaxing bedside glow. Install Ember Wall Light in your entryway for stylish illumination and easy storage of your outerwear, keys or headphones. Clear off your deskspace and get some extra task lighting with Suyo Table Light – a sleek fixture with a bonus catchall for pens and doodads.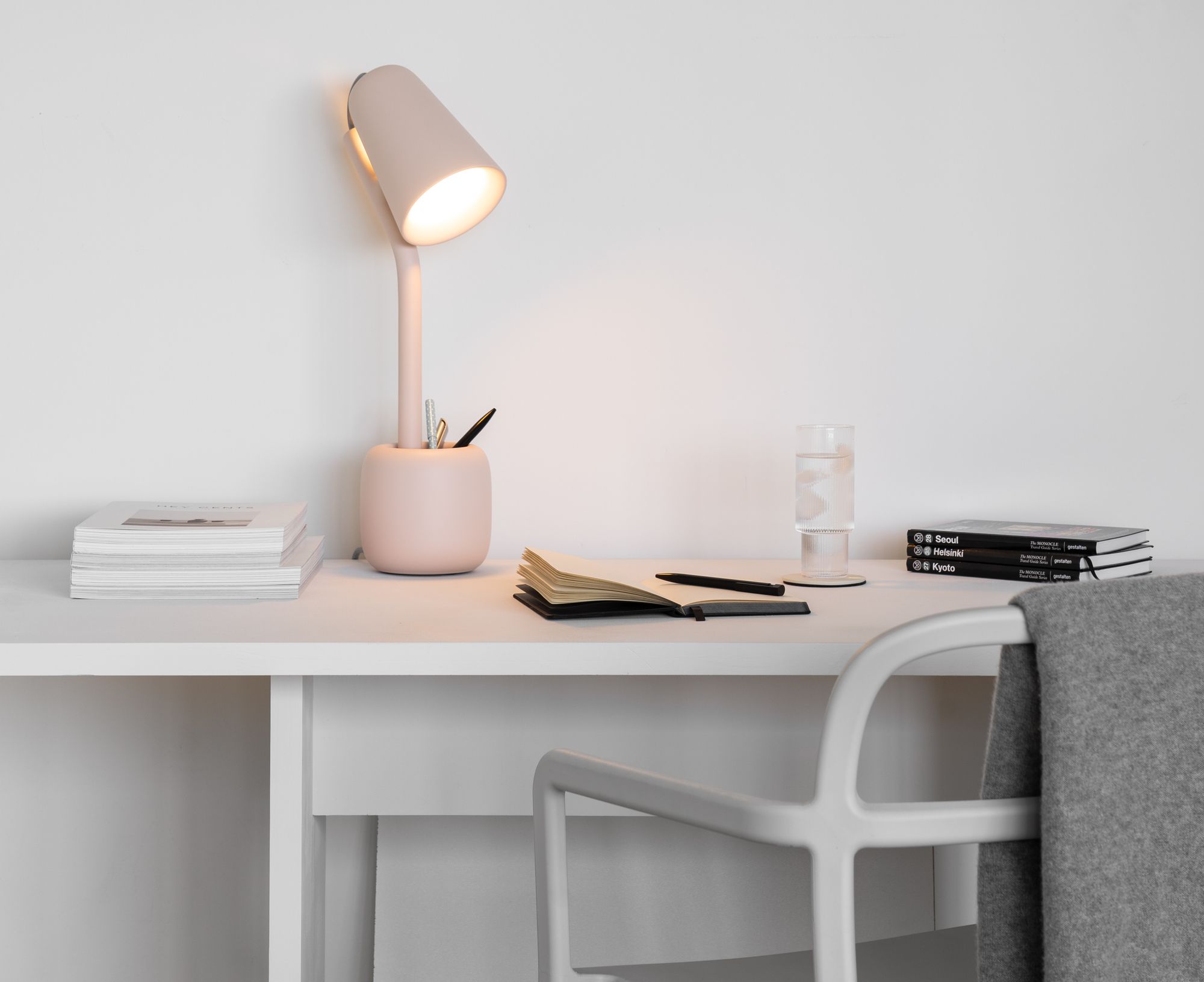 Start small
It can be overwhelming to think about an organizational overhaul in your home so it's best to start small. Start with a small area like your desk or kitchen counter. Commit to keeping this area free of clutter, habituating yourself to a more minimalist lifestyle without the pressure of the entire house.
You can also help this process along by choosing pieces with minimal footprints to free up as much space as possible. A sleek fixture like Palm Floor Light can fit into a tiny corner, keeping your living space open and full of soft, diffused light. Alternatively, adding two Gio Wall Lights above your bed can free up your bedside tables, simplifying your minimal look.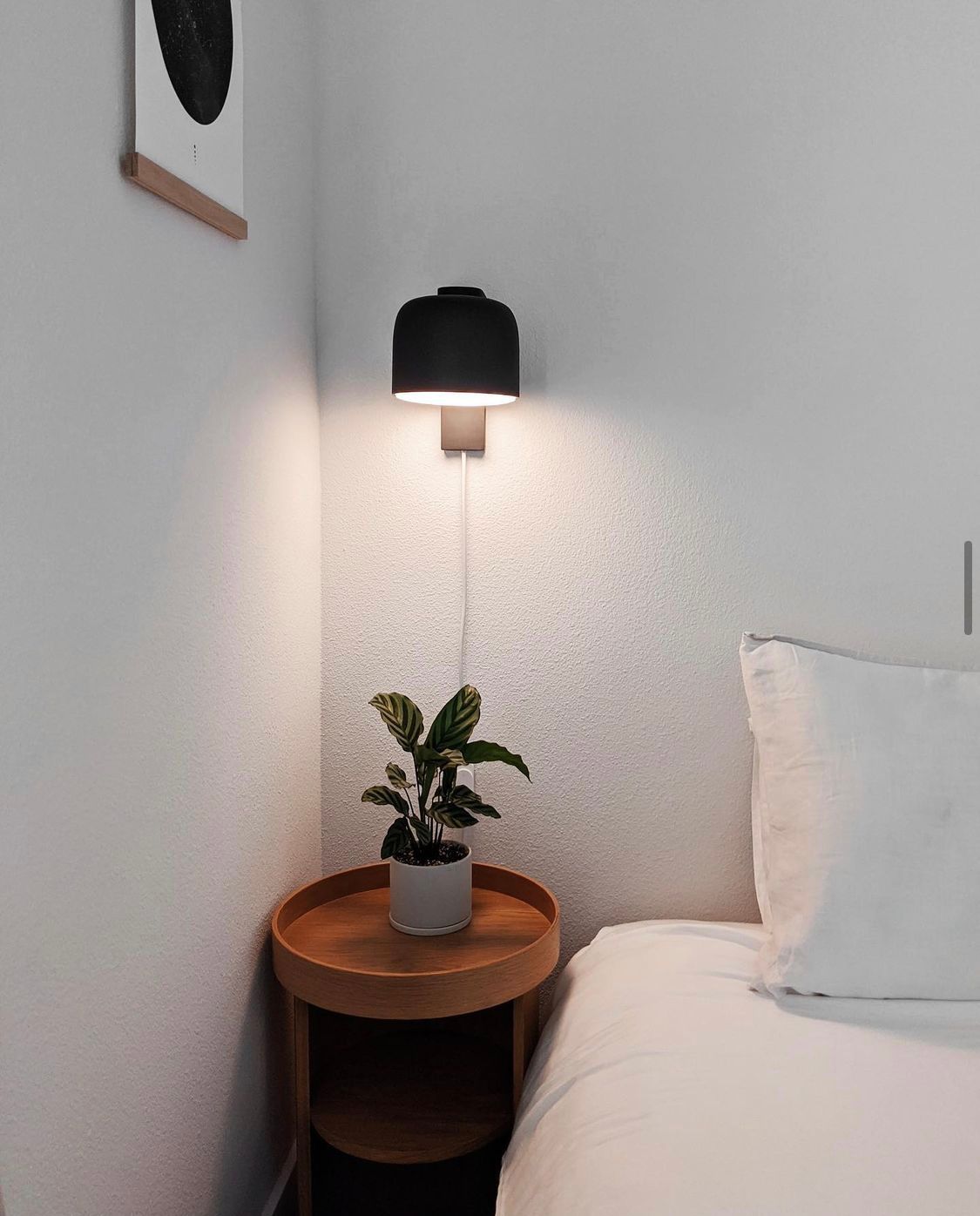 Decor with purpose
While the minimalist aesthetic may require "less," it doesn't mean you have to forgo decor pieces. Instead, look for decor with purpose. If you love the look of plants in your space, look for plant stands with extra shelving. Shop for an ottoman in a playful print that opens for extra storage. Choose light fixtures that show off your personality while giving your space the warm illumination you desire. Discus Table Light can add a moody vibe to your bedroom while Vollmond Table Light can act as a fun conversation piece in the living room. Choose your decor thoughtfully by considering both design and function. With that mindset, the journey to minimalism will be smooth and easy.