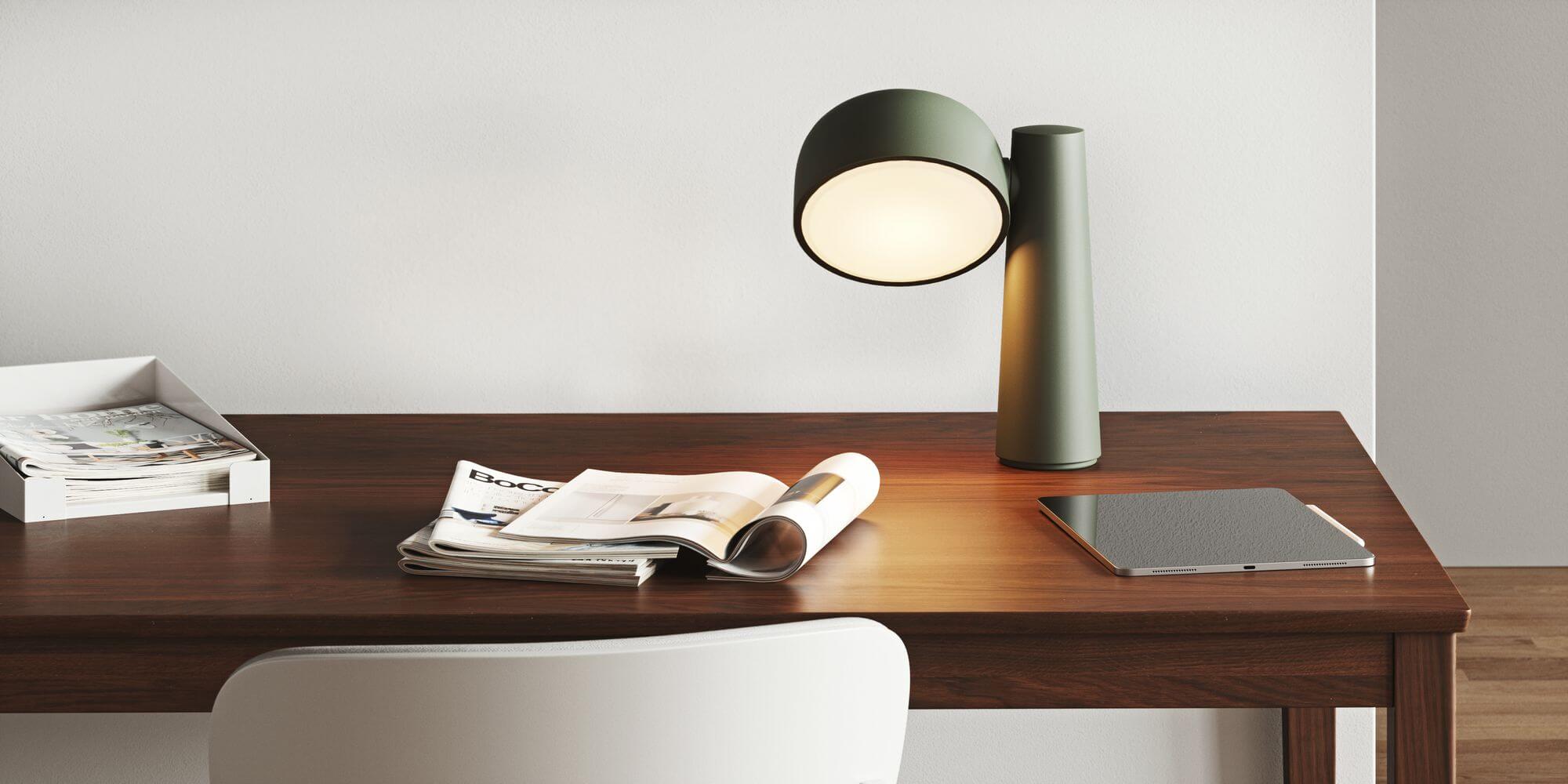 Whether you're reading every night before bed, writing the next great novel, working a lot on the computer or need more light for arts and crafts, Task Lights can help.
But how to choose task lights that will protect the health of your eyes, illuminate the tasks that you do at home and look good? We've got your back.
Below, we've written a guide on Task Lights, and made recommendations for the lights in our collection that were specifically designed to give you a boost as you work.
What is a task light?
As the name suggests, task lighting is any lighting that helps you do a specific task. It's the most focused of the three main categories of lighting, the two others being ambient lighting and accent lighting.
There are many task lights you're already using that you might not have thought of as task lights. The light in your fridge that helps you locate delicious leftovers — that's a task light. If you have a bathroom vanity with lighting that helps you put on makeup or groom your mustache, that's a task light too.
Task lights increase the amount of light on a small area. This helps you reduce eye strain when doing computer work, and makes it easier to do tasks that require seeing detail and fine print, such as reading, writing, working at a desk and eye-intensive arts and crafts like embroidery.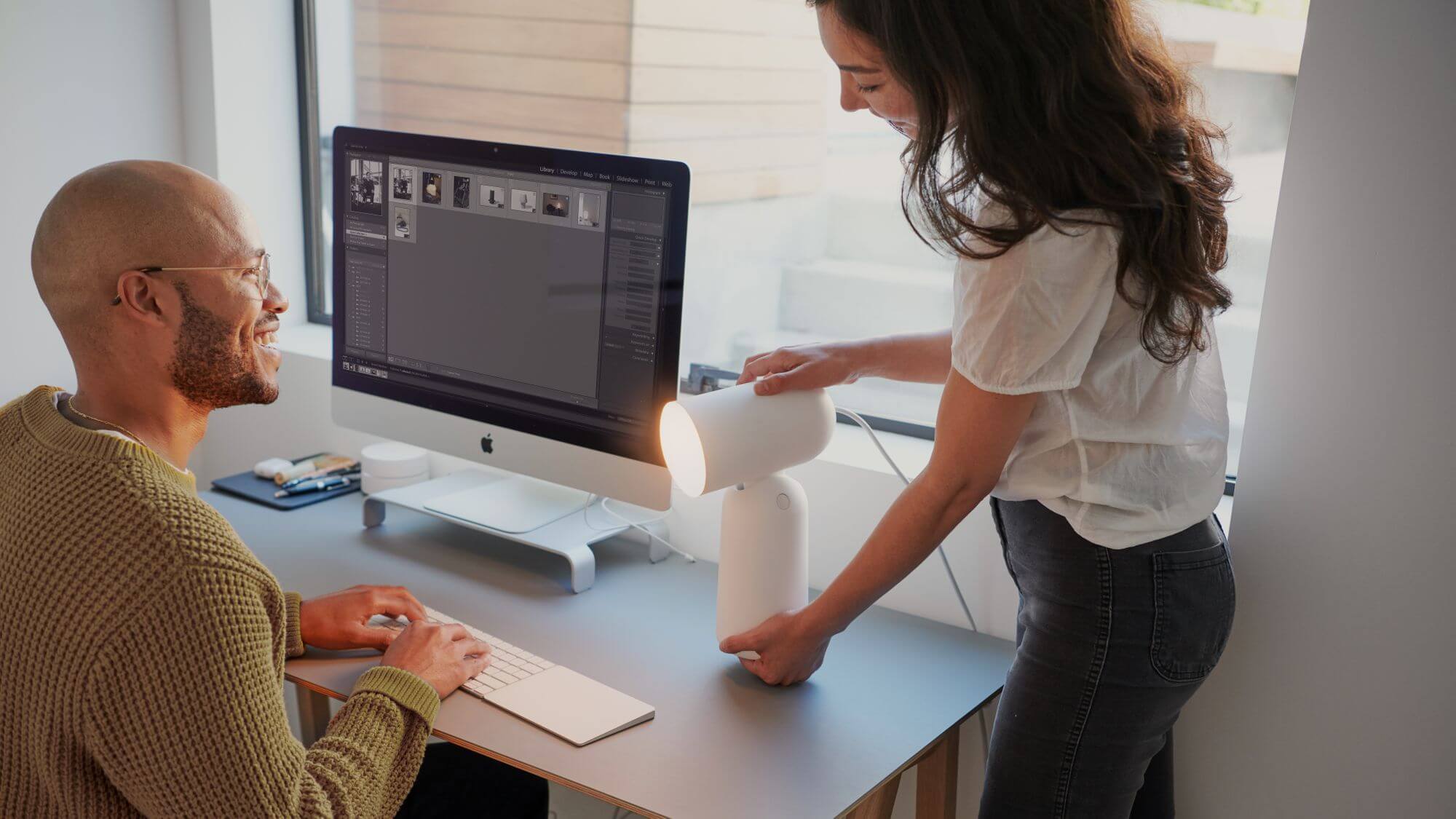 How to choose a task light
There are a lot of options out there for task lighting. How do you know what kind will help you? For starters, think about the kinds of activities you do and where you prefer to do them.
Task Lights for desk work and detail
Task Lights for computer work
Task Lights for reading and relaxing
Task Lights for desk work and detail
For tasks that require seeing detail, choose a task light that emits a narrow beam of light. Look at the head of the light—a narrow head will emit a concentrated beam of light, like a spotlight. That will help you read fine print and distinguish color. Also look for task lights that are adjustable, so you can direct the light where you need it.
Task Lights for computer work
Task lighting for computer work is an often overlooked, but essential use of task lighting. You might think: the computer emits its own light. Why add another one? In a nutshell, adding light to the workspace around your computer screen, especially if you're working in a dim room, means the muscles of your eyes do much less work. Less work, less eye strain.
If you're experiencing dry, itchy eyes, blurry vision, headaches, and other symptoms of eye strain or want to find ways to prevent it, we've written a guide to help you address eye strain.
For reducing eye strain while doing computer work, choose a task light that can create an even but focused light over your entire desk surface.
Task Lights for reading and relaxing
For reading in bed, or other living areas of your home, choose a versatile task light that can produce the focused light needed for reading and then transition easily to the softer light that induces relaxation. For focused light, look for a light with a narrow head. Narrow-headed lights produce a direct beam of light that you can point where you need. This is especially helpful as you shift positions while you read, giving you the light you need whether you're lying on your stomach or sitting up. For transitioning to relaxation, look for lights with built-in dimmers and other features that can change the direction, quantity, and kind of light it emits.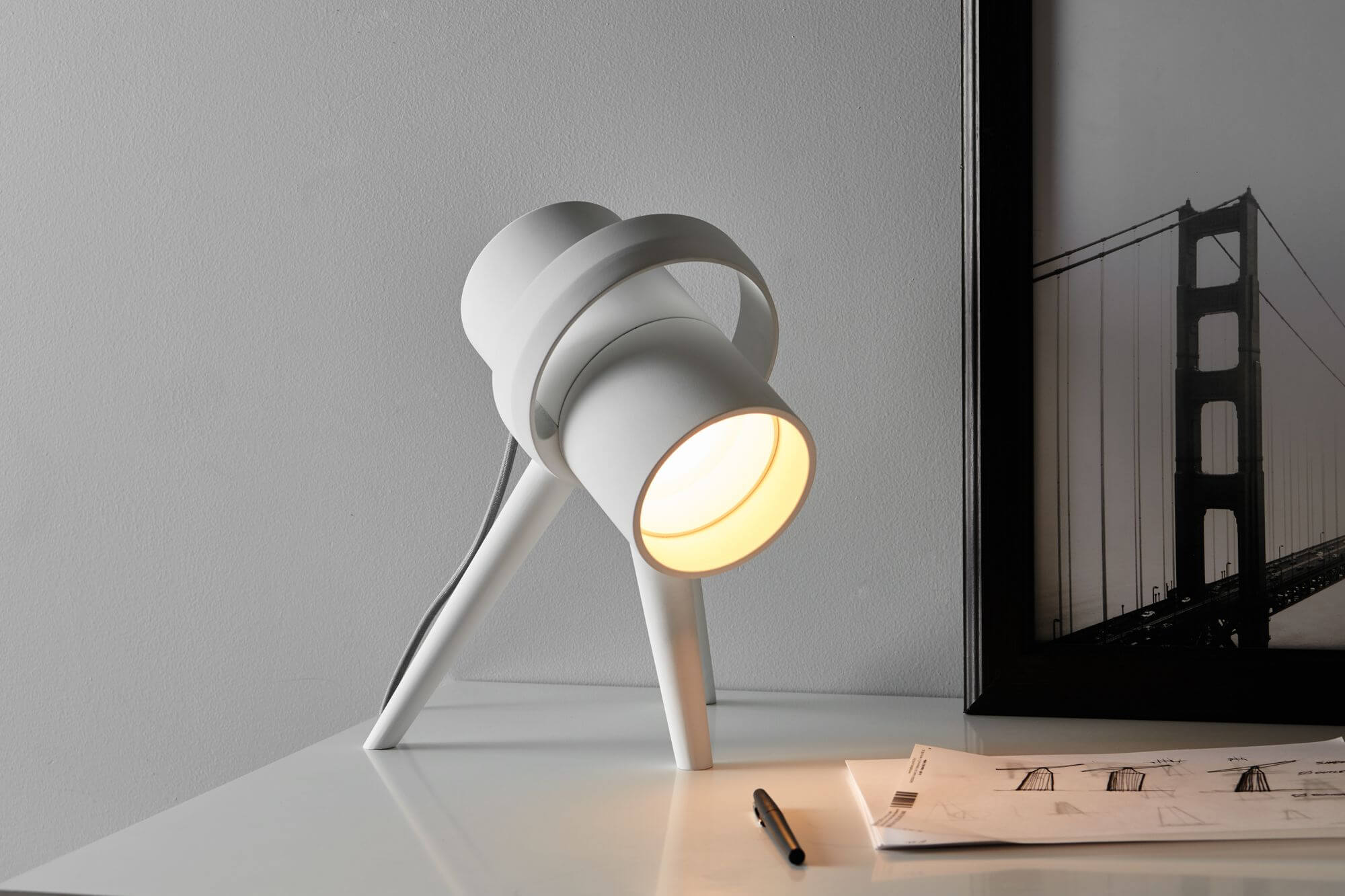 Task Lights at Gantri
Just because a task light helps you do your work, doesn't mean that it has to be ordinary.
At Gantri, we believe lights can be functional, beautiful, and sustainable. We collaborate with designers to make lights that you won't find anywhere else, and manufacture them in-house, with a 3D printing process that uses Gantri Plant Polymers.
Here are a few of our customers' favorite task lights, with recommendations on how to use them.
For desk work, we recommend The Suyo Table Light and the Buddy Table Light.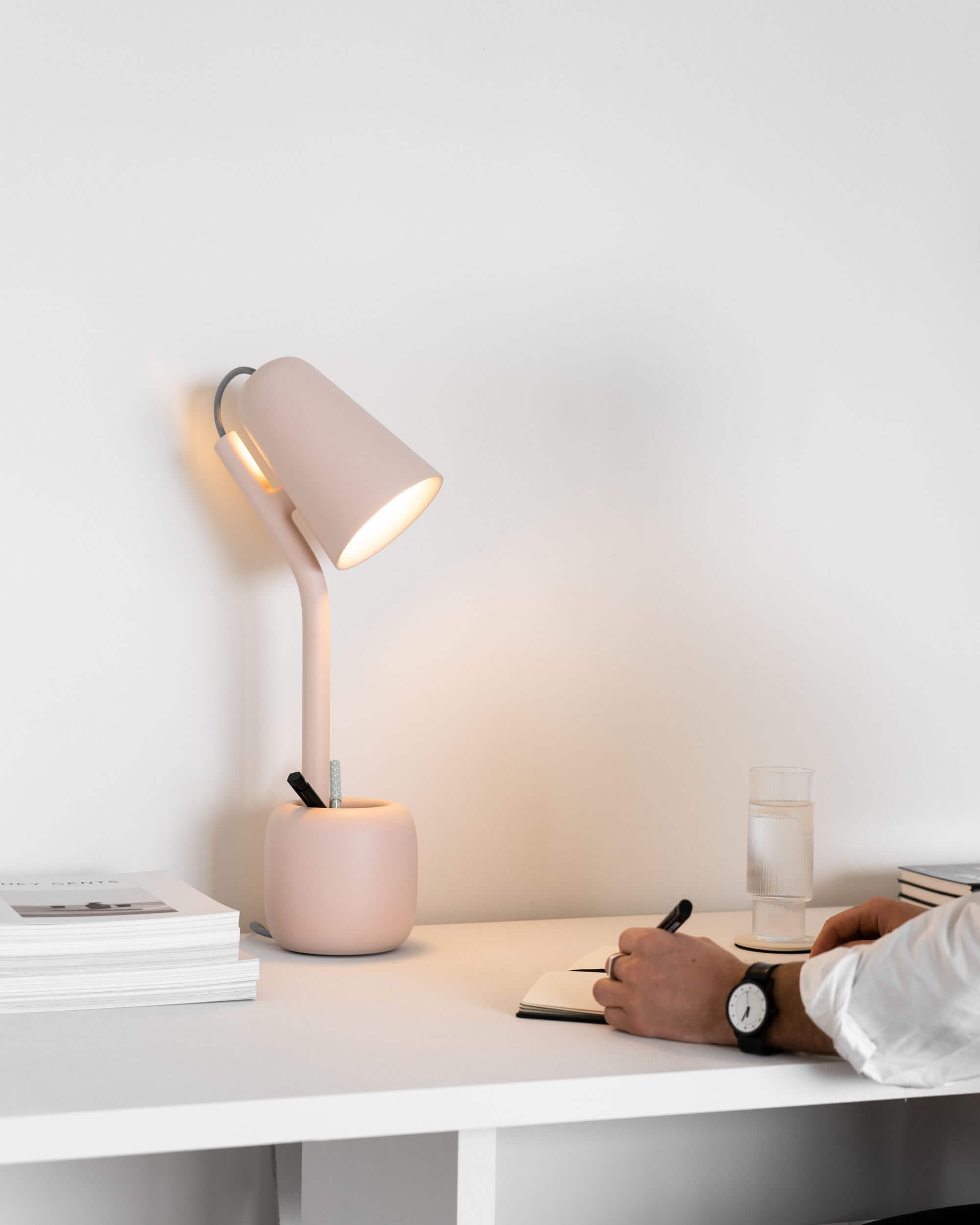 The Suyo Table Light
Whether you're reading, writing, or relaxing with a puzzle at your desk, the Suyo Table Light's bright, narrow beam illuminates your task. The handy catch-all space in Suyo's curved base and its small footprint makes it a great task light for anyone low on desk space.
Suyo's designer, McKay Nilson, draws inspiration from the emotional connections that people have with the objects around them.
The lamp's purpose is selfless, serving foremost to help its owner. This humble attitude inspired the softened forms and lamp's giving gesture.
We love the Suyo in coral for bringing charm into any workspace. The light pink color also contrasts nicely with an air-plant, if you'd like to bring some outside in.
Comes in: Coral, Fog, Snow
Vibe: Warm, Playful, Minimal
Especially good for: small desks and workspaces, nightstands
The Buddy Table Light
The Buddy Table Light is a gentle, bright companion for your desk. Its pivoting head and slim base means you can easily adjust its angle and position to add light to your task.
The designer of the Buddy Table Light, Mona Sharma, loves keeping things simple, honest, and enjoyable.
A good tip for lighting in the home is to try to create a space that lets you focus on doing something you enjoy and/or work on. This was one of the key drivers when coming up with Buddy - having a light as well as a companion to help you do this. Who knew these times would come where WFH would make Buddy so much more relevant than before!!
We love Buddy in Snow for its gentle, robot-buddy feel. Just like having your own droid companion while you save the world (or speed through your day's work).
Comes in: Snow, Carbon, Forest
Vibe: Friendly, Whimsical
Especially good for: desk work, small spaces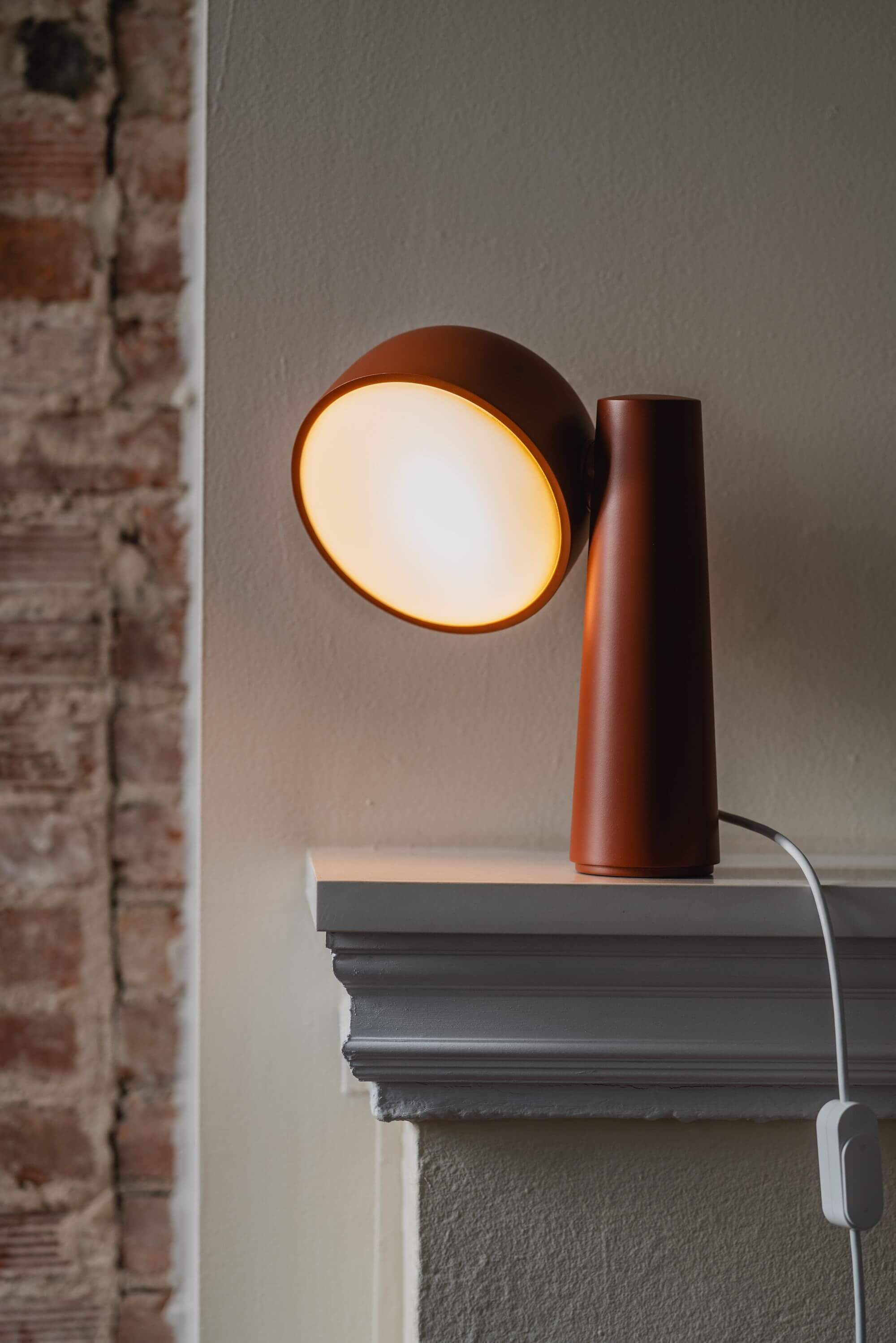 For computer work, we recommend the Gio Task Light.
The Gio Task Light
Want a hard working task light that doesn't look like a task light? Enter the Gio Task Light. This elegant light provides the soft-yet-focused light needed to prevent eye strain while doing computer work, while looking like an art piece. Gio's head pivots 90 degrees, allowing you to shine its generous light directly on your working area and reduce glare. It's sleek, seamless shape was inspired by the revolutionary Italian lighting styles of the 1970s.
The Gio Task Light was designed by award-winning design agency, Ammunition, who saw the possibility for creating seamless, organic shapes in Gantri's sustainable 3D printing process.
We love Gio in Carbon for its sleek, minimal look, but honestly, any Gio brings boutique hotel style into your space (for less than the cost of a night's stay). Not that we're traveling these days.
Comes in: Carbon, Forest, Sedona, Snow, Stone
Vibe: Structural, Bold, Elegant
Especially good for: computer work
For reading and relaxing, we recommend The Halcyon Table Light.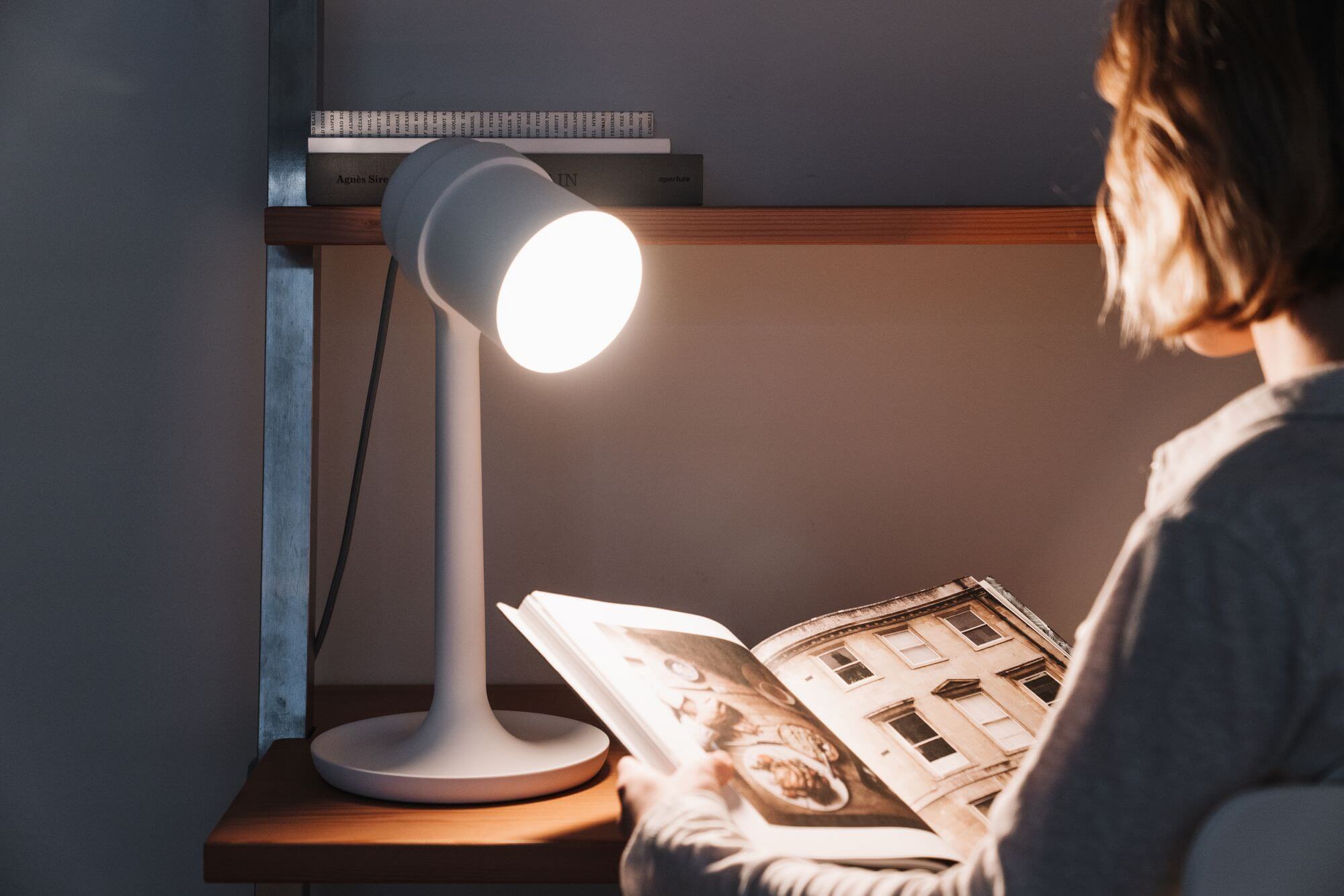 The Halcyon Table Light
The Halcyon Table Light is an easy, versatile addition to any reading space. Whether you're reading in bed, or on a couch in the living room, Halcyon provides a focused beam of light that makes it easy to see fine print. When you're ready to relax, simply switch the direction of Halcyon's removable head, dim the light using our custom dimmer switch, and kick back.
The Halcyon Table Light's designer, Joe Parker, creates objects that improve people's everyday experiences.
I'm passionate about functional simplicity and quality craftsmanship in the things people use and interact with everyday. Good design should be driven by a desire to make things better and not require pointing out. Whether that's making an everyday task easier or simply by making objects more desirable to interact with, in most cases it should go unnoticed by the user.
We love Halcyon in Snow for its ability to elevate anywhere it's placed. Neutral doesn't have to mean boring.
Comes in: Carbon, Fog, Sand, Snow
Vibe: Understated, Flexible
Especially good for: reading, small spaces